Betty Virago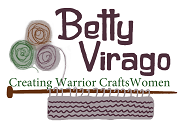 Warrior by name, warrior by nature, social enterprise Betty Virago was created through owner Joy Pocock's passion for supporting those in vulnerable situations to upskill them and earn money to survive.
Growing up with parents in the craft industry and both Salvation Army officers, Joy's business is in her blood. Profits from the sales of her crafts go straight to running workshops for vulnerable people, such as the homeless and those in prostitution, to build their confidence and help them develop craft skills they can use to generate their own income.
Joy undertook Enterprise Placement Year during 2016/17 to realise her passion for running her own business. She won a place at the School for Social Entrepreneurs (SSE), using the pitching skills that she picked up during EPY. She also secured a contract to produce a craft kit for children suffering from bereavement which goes to every hospice and hospital in the UK.
Joy receives invaluable support from the Enterprise Team. Each advisor has their own specialism and connections that give start-ups the best chance of success.