Ocean Spark Studios Ltd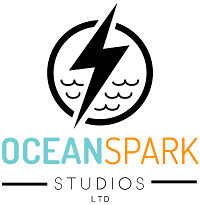 Ocean Spark Studios Ltd takes you on a journey through a fantasy island world in its flagship game Tetra: Element Awakening. Standing shoulder to shoulder with key players in the industry at prestigious gaming events and already forming links with publishers in China, the biggest gaming market in the world, are just some of the highlights in what has been an explosive first year for the business. Proving their cynics wrong, top gaming bloggers and vloggers are already naming them as the next big thing in the industry.
Fluidly combining the bespoke talents of all four team members, Ocean Spark Studios Ltd look set to launch their first game after securing £23k in 2017 from Creative England. Having initially self-funded, the team will benefit from a regular wage which will help kick-start further growth for the business.
Undertaking Enterprise Placement Year during 2016/17 has enabled Ocean Spark Studios Ltd to understand how a business works, creating a viable business strategy, as well as provided access to funding opportunities. Ocean Spark Studios Ltd continues to receive support from The Enterprise Team.
http://oceansparkstudios.co.uk/