Photography
Presentation Photograph Inside the Hall
Personal Photography Inside the Hall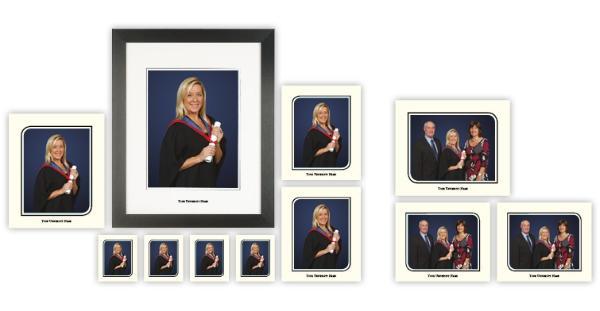 Photography Packages
You may attend a photography session either before or after your ceremony at whatever time is convenient to you.
Tempest Photography is the official photographer for the University of Huddersfield graduation ceremonies and they offer an extensive range of products which are available to view in advance online at www.tempest-graduations.co.uk/.
Tempest will be operating multiple studios on graduation day - please see Arrival Times for details of their location and when they will be open.
You do not book, pre-order or pre-pay for anything. Instant proofs will be given to you in the studio when your photographs are taken, enabling you to select your favourites and to place your order either at the sales desk or afterwards via the website or by post/telephone.
Presentation Photograph Inside the Hall
Tempest Photography will be present in the hall to capture the moment you cross the stage and are awarded your degree. These images will be available to view immediately after your ceremony and prints can be purchased to take away on the day. Alternatively, visit www.tempest-events.co.uk, allowing 7 days after your event to order your Presentation Photograph. A free screen-resolution download to mobile phones is also available.
Free Group Photo
A group photo of all the graduating students will be taken at the start of the ceremony and uploaded to the Alumni Facebook page so that you can share it with friends or family, or download it for free. If you would prefer not to be included in the picture you will be given the opportunity to move out of shot.
Personal Photography Inside the Hall
Whilst personal photography is not prohibited inside the hall, to ensure that other people's views are not impeded, we ask that guests keep to their seats and don't move around to take photos. Please ensure that you do not raise notepads in front of other guests.
Campus Photographers
Our University photographers will be roaming the campus at graduation. Their pictures will be posted on the Alumni Facebook page as soon as possible after each ceremony so that you can share them with friends and family.
For tips on where to take the best photos click here.
Please be aware that the University photographers will be taking photographs on the day of the ceremony which may be used in University publicity. Wherever possible your consent will be obtained but this may not be practical in all circumstances (for instance crowd shots).